On our pages...
You'll find a little history, a little humor and some pictures of our dogs. We'll be posting pictures sent in by guests to the site, as well as a "photo of the week." Remember this; although we like your dogs just fine, only red dogs will appear on this site.
A Fine Brace of Grouse
"The unbreakable bond between an Irish Setter and his master is based on a common love."
Submitting Photos
Please keep the photos you submit small (under 80 KB) so that we can squeeze more in. Pictures depicting our dogs doing what they do best-hunting and competing-will have the best chance of appearing on the site.

A brief bio should be included to be posted with the photo.
Submit photos, comments and link requests to:
New Additions...

Guest book has been fixed. New photos soon. More of Mick's grandpups
can be seen at;
http://agatepointkennel.nrsftc.com/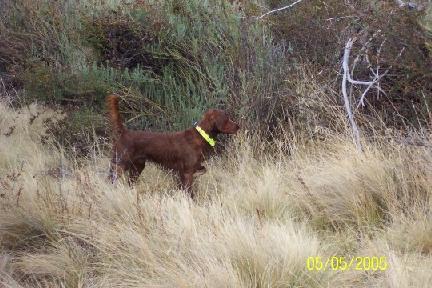 "Photo of the Week"
Mick pointing another covey